I'm weird. Wanna know why?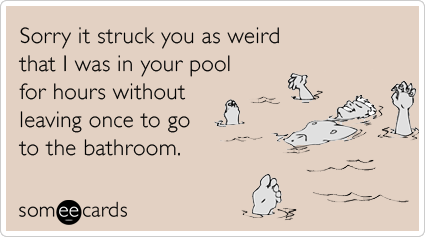 1. I like spying on people.
That is, there is nothing I like more than walking around different neighborhoods when the sun is going down or when it's dark, and taking a peek into any windows where the blinds might not be drawn and the lights are on. Yes, I know how creepy this sounds, as my husband tells me all the time, but really, I just love to see how other people live.
2. When I'm typing
, if I make a typo or leave out a word, instead of just going to the place where I need to make the change, I delete everything I've written until I'm back to the error.
3. I can only eat Greek yogurt when I add pomegrantes.
The texture is too thick otherwise, but the pomegrantes add a crunchy, flavorful burst, which makes it tolerable, and it makes me healthy!
4. I'm obsessed with pens that write a certain way.
I can't explain it, but I can always tell a good pen. I especially like the pens they leave in hotel rooms. They always write the best. In fact, I can sum this point up as I'm just an office supplies nerd in general...pens, notebooks...love 'em.
That's all I've got today. Happy Hump Day.