Happy Wednesday!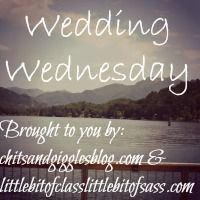 I mentioned last week that Bryan and I celebrated our two-year wedding anniversary last Tuesday. We celebrated with a trip to
Savannah and Hilton Head
, and it was wonderful.
Last year, we went to Santa Barbara, which was also fabulous. When we were there, we found ourself clinking a lot of glasses — aka, drinking a lot and toasting. So we started toasting each other. We'd take turns and there were no requirements, other than the toast had to be about each other, or our marriage. I know it sounds cheesy. But it was super romantic and I loved it.
You all know how it is - you say I love you every day, but you don't often say the little things you appreciate about one another. We did the same thing this year and it was a really great way to reconnect and tell each other what we love and look forward to in life.
In any case, in honor of our wedding anniversary, I wanted to share something very special: Our wedding highlights! One of our biggest investments in our wedding was the videographer and when you see this video, you'll see why. For us, we knew the day was going to be such a whirlwind of activity and we wanted something to be able to watch year after year and relive it all. The video I'm sharing with you is just the highlights - our full video is even more amazing.
I hope you enjoy it! (P.S. I recommend watching it fullscreen to get the full effect!)