I just started sponsoring a new blog, Back East Blonde, and in the process realized that she's co-hosting the best link-up ever.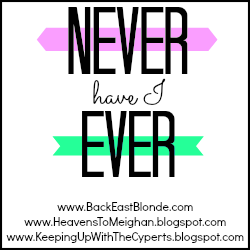 You know the game. We all played it in high school, college, maybe even last weekend. I do wish I had a glass of wine to drink while I read through everyone else's "I never's," but by the time I post this, I'll be at work, so...it
might
be frowned upon.
I'm going to keep this PG instead of going the dirty route that this game inevitably takes when you're playing with girlfriends. You're welcome.
Never Have I Ever...
Gotten a facial. I haven't had one, so I don't what I'm missing, if anything. Thoughts?
Watched Real Housewives of Miami or Atlanta. OC, Beverly Hills, New Jersey and New York on the other hand...yes, yes, yes, and yes. Guilty pleasure. For some reason, the other two have never appealed. Also, this woman scares me a lot a little.
Invested in good makeup or good sunglasses. I know, I know. I just can't bring myself to spend the money when I know I can get similar items at only slightly less quality for A LOT less money.
Bought anything designer. With the exception of jeans. Even then, most of my "designer" jeans have been handed down to me from hands. Anything I own that's Michael Kors, Coach, etc., has been a gift.
Broken a bone. I've had extra bones and bones removed, torn ligaments & dislocated joints, but never have I ever broken a bone. Knock on wood.
Tried tuna. In fact, it wasn't until I was like, 24, that I tried any type of fish other than "fish dipped in butter" (cod) that Mom used to make from the Schwan's make. Now, I like shellfish, halibut and swordfish but I refuse to try tuna. It smells.
Done a juicing cleanse. Or any cleanse, for that matter. Weight Watchers, low-carb, Jillian Michael's, starving myself, you name it, I probably tried it for a few days. But for some reason, the juicing thing doesn't appeal.
Permed my hair. That's a lie. I did. Here's proof. You're welcome.
Now go link up!