Happy Monday, lovelies!
I'm guest posting over on
Pretty Little Endeavors
today. Head over and check it out. Tell your friends! :)
And in the meantime, here's my weekend in a nutshell:
Friday night
was a long overdue date night with Mr. Farrell. We kept it simple and ordered pizza, bought a tasty selection of craft beers and caught up on our shows from the past couple of weeks. We also started watching The Following, which we both love. Anyone else on board with this show?
Addy gets up from her perch to see what Dad's got.
Saturday,
I started my morning with breakfast in bed (with Addy, of course) before I got some stuff done around the house in the morning. Went to the gym in the afternoon, much to my dismay, but I ended up having a good workout. I did this little walk-run treadmill workout that I love because it's challenging but not too much so, and I always burn a lot of calories. Let me know if you're interested in it!
We went to dinner at RPM Italian on Saturday night for my girlfriend's birthday with her husband and another couple. If you're not familiar, RPM is owned by the lovely Giuliana and Bill Rancic and it's fantastic - Italian small plates and amazing cocktails. I didn't take any food photos, but was able to capture my girlfriends and I post-three bottles of red wine. (Hence the classic red wine mouth.) After that, it was off to a much less classier establishment and a lot of blurred memories. Upon returning home that night, I thought it appropriate to cook a frozen pizza, which I successfully dropped face down as I took it out of the oven. Fun times to try and clean on Sunday morning...
Finally,
Sunday
I woke up with a tickle in my throat, which is always a telltale sign that I'm getting sick. So, I spent literally all of yesterday going from the couch to my bed watching Red Carpet stuff. I did manage to drag myself out of the house for a few minutes to satisfy an intense Fro-Yo craving. My throat made me do it.
And of course, I watched the Oscars, from approximately 4pm until 11pm. I LOVED the fashion, personally. Naomi Watts, Jennifer Hudson, Adele, Charlize Theron...all of them were perfection. I wanted more from Jennifer Aniston, personally. I feel like she's always so effortless, but it seemed like her normal everyday look with a gown strapped on it. I wanted an updo, at the very least.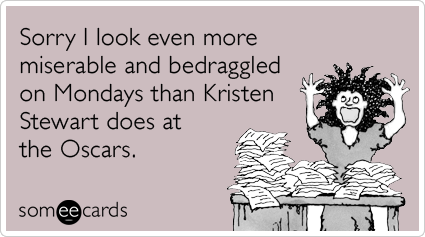 How was your weekend?