Happy Sunday, friends!
I'm not-so-secretly happy that today is rainy and dreary. I'm planning to hunker down with my computer to do some work & blogging, with
Lifetime
movies playing in the background, and a Papa John's pizza on the way! Tonight I've got my first Fantasy draft of the season, so lots to get done before then.
Today I'm linking up with
Ashley's Carnival Ride
and
A Complete Waste of Makeup
for Sunday Social! This is my first go at this and I'm excited to dig in. Enjoy!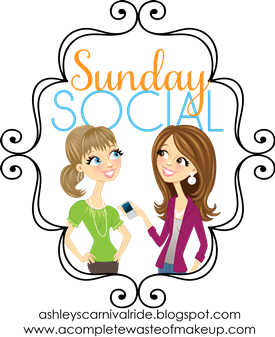 1. What is the first website you log into each day?
Admittedly, Facebook. Followed by CNN, so that makes me feel a little better?
2. Give us some funny websites that you visit that we need to know about.
I'm a reality TV junkie, so I love reading sites that make fun of the nonsense. RealitySteve is a good one, and so are blogs hosted by former contestants, like Ashley Spivey, from Brad's season. She has a personal blog, Say No to Cosmo, but the one that I love is the one she does for ABC. Enjoy :)
The other site that makes me LOL every single time I visit is Damn You AutoCorrect. And I recently found this gem on Tumblr, and it's amaze. Your welcome.
3. Pinterest or Facebook? Why?
This is a toughie. I love hanging out on Pinterest and pinning random things for hours upon hours. But I also dig stalking people on Facebook. Two totally different platforms for two totally different habits!
4. Twitter or Instagram? Why?
I think I gotta go with Instagram on this one. I use Twitter a lot for work, and not as much for personal reasons. I love Instagram because I love photos & the filters help you see things in a new light...literally. However, both are fun to stalk celebs and for that, I love both equally!
5. Favorite YouTube video. Post it!
Another toughie. Little kids crack my shit up, so here are some oldie but goodies! Again, you're welcome.
Ouch, Charlie!
This is from one of Jimmy Kimmel's challenges, where parents told their kids they ate all of their candy. CJ & Jake were amaze:
Sophia Grace & Rosie are hilarious always, but their first appearance on Ellen is phenom.
Animals get me every time, too. Love this panda sneeze!
6. Biggest online pet peeve?
I really can't stand people who have nothing better to do than to comment on people's blogs or pages and write nasty remarks to them. Honestly, get a life.
Once when I worked for CareerBuilder, this guy wrote a blog about me, saying that I deserved to be "hanged, drawn & quartered." I believe I was also referenced as a "silly twat." Anyway, the point is that people are assholes and they're assholes more often than not on the Internet because they can do so anonymously. People think they know someone based on one article, photo, TV show, etc. Grow a pair.
I hope you've enjoyed getting to know me a little better today!
XOXO

,
Rachel